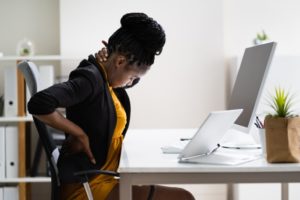 Whether you're an adult with a sore back from sitting on the couch too long or a kid being reminded by your parents not to slouch over your phone, it's common knowledge that good posture is important. Sitting and standing up straight is better for our backs and helps make us look more professional. However, many people don't realize that their posture can play a key role in their bite alignment as well. Read on as your local orthodontist explains the connection between your spine and your jaws as well as what you can do to keep both healthy.
How Can Your Posture Change Your Bite Alignment?
It's no secret that everything in the human body is connected in complex ways. For example, when you have an issue in your feet or ankles, your stride will change. This in turn puts extra pressure on your knees and causes them to hurt. Similarly, when you're slouched over your phone, computer, or book, the curve of your back leads to your skull sitting farther back on your spinal column. This pushes your jaw forward, causing your jaw joints to adapt to the new pressure.
While this likely won't cause sudden pain, your jaw will gradually adjust to its forward position. Over time, it will begin to stay there even when you're not slouching or leaning over. With your jaw pushed further out, your bite won't come together like it should.
The Effects of a Misaligned Jaw
As mentioned, this isn't a sudden change, so you may not notice it right away. However, jaws that don't match up correctly can lead to:
Jaw soreness and TMJ disorder: When your jaws are misaligned, it takes more effort and stress on your jaw joints to bring them together. This extra tension can easily lead to soreness, inflammation, and even TMJ disorder.
Weakened or damaged teeth: A different position for your jaw means a different position for the teeth on that jaw. Now that they're pushed forward in the mouth, they're exposed to more friction and stress. This wears them down over time, which can lead to sensitive and chipped teeth.
A delay in your orthodontic treatment: It's essential for your jawbone to be in good shape when undergoing orthodontic treatment. This extra jaw movement can potentially slow down your progress, or even reverse it if your treatment is also addressing bite issues like underbite, overbite, or crossbite.
Tips for Better Posture
Thankfully, once you're aware of its importance, it's simple to get better posture. Alongside being mindful of how you're sitting and standing, keep these tips in mind:
Lift your chest up and rolling your shoulder blades back and down.
Take a few deep breaths, letting your lungs fully expand.
Tighten your stomach muscles to support your core, which takes pressure off your back.
Make an imaginary straight vertical line between your ears and hips.
Good posture is far from the only thing that will impact your oral health and orthodontic treatment, but that doesn't mean you can ignore it! Be mindful of your posture—your body and smile will thank you!
About the Practice
At Simply Orthodontics Milford, we are truly dedicated to making orthodontic treatment as simple as possible for anyone who wants a straighter smile. From traditional braces to Invisalign to everything in between, we offer a comprehensive menu of services to meet all your orthodontic needs under one roof. Whichever treatment you use, our team of friendly and experienced orthodontists will be with you every step of the way to ensure your journey towards a better smile is as smooth as possible! To learn more, we can be contacted online or at (508) 473-2002.