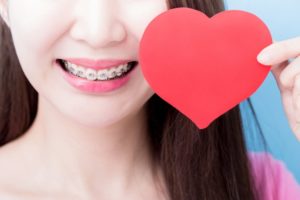 Before starting your orthodontic treatment, you knew that wearing braces would require some changes to your everyday lifestyle. You knew you'd have to make adjustments to things like what you ate and how you brushed. But now that Valentine's Day is right around the corner, you realize that you haven't prepared for kissing with braces! Don't worry — you don't have to give up romance while you're straightening your smile. Just keep these three important tips in mind to make kissing your valentine a pleasant experience for you both.
Tip #1: Keep Your Smile Clean
Whether you wear braces or not, no one wants to kiss their special someone if they have bad breath! That's why it's so important to practice great oral hygiene habits like regular brushing and flossing. Since it's very easy for food debris to get stuck between wires and brackets, you need to take the time to thoroughly clean your smile during your orthodontic treatment. Not only will this lower your risk of cavities, gum disease and yellow teeth, but it will keep your mouth clean, fresh and kissable! As Valentine's Day approaches, make sure you're brushing for two minutes twice a day, flossing daily, and rinsing with mouthwash regularly.
Tip #2: Start Off Slow
If you wear braces, you already know that brackets and wires can be painfully problematic for the soft tissues in the mouth. That's why one of the most important tips to keep in mind when kissing this Valentine's Day is to take it slow. Be gentle and do your best to avoid bumping your braces against the inside of your lips or against your partner's teeth. It's a good idea to start with closed lip kissing and only move on to open mouth kissing when you and your special someone feel ready. Keep you and your partner's tongues and lips away from your braces as you kiss. Remember, no matter how excited you and your valentine are, it's better to take it safe and slow than to rush into things and accidentally hurt each other!
Tip #3: Use Orthodontic Wax
Orthodontic wax is a must-have to make wearing braces more comfortable, and it can be very helpful while kissing! Cover up any rough spots in your smile with wax to prevent snagging any lips or tongues. This way, you and your partner can enjoy each other without worrying about your braces. What's more, most orthodontic wax is opaque or clear, so your beautiful, dashing smile will look just as great as ever!
You don't have to give up romance if you wear braces, but there are a few simple precautions you should keep in mind! Use the above tips to make kissing with braces a pleasant experience for both you and your special someone this Valentine's Day!
About the Practice
Our talented and highly experienced team at Simply Orthodontics Milford is passionate about helping patients of all ages achieve beautiful, healthy smiles. We go above and beyond to offer a wide array of orthodontic services in our welcoming, state-of-the-art office, which is how we earned first place in the 2020 Best of the Best Metro West from the Official Community Choice Awards. Whether you're in need of Invisalign, traditional braces, or any treatment in between, we'll be with you every step of the way to make sure your journey towards a better smile is as pleasant as possible. To learn more, we can be contacted online or at (508) 473-2002.