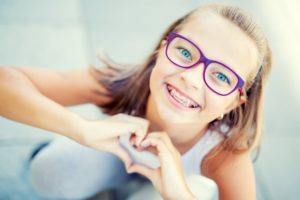 If your child has crooked teeth or bite problems, an orthodontic treatment like braces is a great way to set them up for a lifetime of happy, healthy smiles. But in the meantime, with all the metal wires and brackets, diet restrictions, and new rules, they may not be too thrilled about the process. Thankfully, there are plenty of ways you can help make wearing braces fun for your child! Read on as we cover seven easy ways to encourage your little one to enjoy the process of straightening their smile.
1.) Support Their New Look
It's absolutely essential that you stay supportive and positive during your child's orthodontic treatment. It's likely that they will feel a little self-conscious about their braces, so try encouraging them to smile and reassuring them that they still look like themselves.
2.) Make Dental Care More Exciting
Brushing and flossing takes a bit more time and effort with braces. To help keep your child engaged with their daily dental routine, consider getting them an orthodontic-focused flosser, a fun-flavored toothpaste, or maybe even a new electric toothbrush!
3.) Become a Smoothie Scientist
Smoothies are delicious, nutritious, and very helpful for easing soreness that comes with adjusting braces. Try making smoothies with your child at home with combinations of their favorite fruits and veggies!
4.) Become a Braces-Friendly Baker
Many of your child's favorite sweets may be off-limits while they're wearing braces. But there are still plenty of tasty treats they can safely indulge in, with moderation of course. Try going online to find recipes for braces-friendly desserts, such as homemade ice cream, soft cookies, and gooey brownies.
5.) Celebrate the Seasons with Colored Bands
With traditional metal braces, your child may have the option to change the color of the bands around their brackets when they visit their orthodontist for adjustments. Talk with your child beforehand about which colors they would like to choose to match upcoming holidays or events to make their braces more fun and personalized!
6.) Make Orthodontic Checkups Something to Look Forward to
Orthodontic checkups and adjustments are a key part of any orthodontic treatment, but they can cause soreness for a few days. You can try to help your child associate these visits with good memories by taking them out for frozen yogurt or a movie afterwards. Having their braces adjusted may never be "fun," but you can at least help keep your child from dreading their checkups.
7.) Plan to Celebrate Their New Smile
Completing an orthodontic treatment like braces is an achievement that's certainly worth celebrating! Come up with a plan with your child for how they want to celebrate accomplishing their new smile. This will give them something to look forward to during their treatment and give them a tangible reason as to why it will all be worth it in the end.
Wearing braces can be a tiring, frustrating, and complicated process for children. But with these seven tips, you can help your little one enjoy getting a straighter smile!
About the Practice
At Simply Orthodontics Milford, we're committed to helping patients of all ages get the straighter, healthier smiles they deserve. We're proud to offer a wide range of orthodontic treatments that utilize the latest technologies and techniques to accommodate every type of smile and lifestyle. What's more, our experienced, fun and compassionate dental team will be there every step of the way to make sure your or your child's treatment is as pleasant as possible! For more tips on making braces fun, we can be contacted online or at (508) 473-2002.