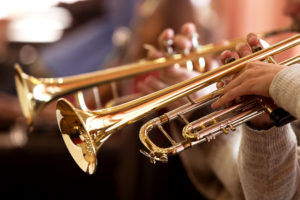 From eating and brushing to smiling and talking, traditional braces will certainly impact many aspects of your day-to-day life. One common concern for orthodontic patients, particularly those still in school, is whether their new orthodontics will hinder their ability to play a musical instrument. Thankfully, if you play the trumpet, flute, oboe, trombone, or any other instrument involving the mouth, you don't have to stop playing on your journey to a straighter smile! However, you will need to go through a slight adjustment period. Here are some tips that will help you play musical instruments with braces.
1.) Practice Makes Perfect
Much of playing a musical instrument relies on muscle memory. However, your new wires, brackets, and any other attachments for your braces may get in the way of how you usually play. Not to worry! You will need to relearn these movements to work around your braces, but it won't take nearly as long as it did to build that muscle memory in the first place. With enough practice, you'll be back to playing how you always have, or better!
2.) Don't Forget Your Wax
Orthodontic wax is a must-have for orthodontic patients, whether they're a musician or not. However, wax can be particularly helpful when it comes to playing musical instruments that require you to press the mouthpiece against your lips. With the presence of your new brackets, this extra pressure can cause irritation and sores. Wax is an effective way to smooth out those rough spots in your smile and protect your soft tissues from irritation.
3.) Be Prepared to Use More Breath
As you begin to practice your instrument while wearing braces, you may find yourself out of breath more quickly. Many musicians report needing to use more breath while playing during their orthodontic treatment, especially those playing a woodwind instrument. This is just another change that you will have to adjust to! As with most things, you will likely begin to notice it less and less as you practice.
4.) Consider An Alternative If You're Struggling
If you are still struggling to play your instrument for several weeks or months after getting braces, or if you have an important performance coming up that you are concerned will be impacted by your braces, talk to your orthodontist about alternatives. It may be possible for you to switch to a clear aligner system like Invisalign. These aligners are removable, so you can simply take them out before practice or a performance. You'll just need to remember to wear them for 20-22 hours a day!
Adjusting to braces can take quite some time and effort, but the results are well worth it all. Before you know it, all your hard work will have paid off and you'll be enjoying a beautiful, healthy, and straightened smile!
About the Practice
At Simply Orthodontics Milford, we go above and beyond to help smiles of all ages overcome their orthodontic issues. With a wide range of services, including traditional braces, and the latest orthodontic technology, we are well-equipped to create a completely custom treatment plan for fast, reliable results. What's more, you'll have a compassionate, experienced team with you every step of the way to make sure your treatment goes as smoothly as possible. To learn more about life with braces, we can be contacted online or at (508) 473-2002.