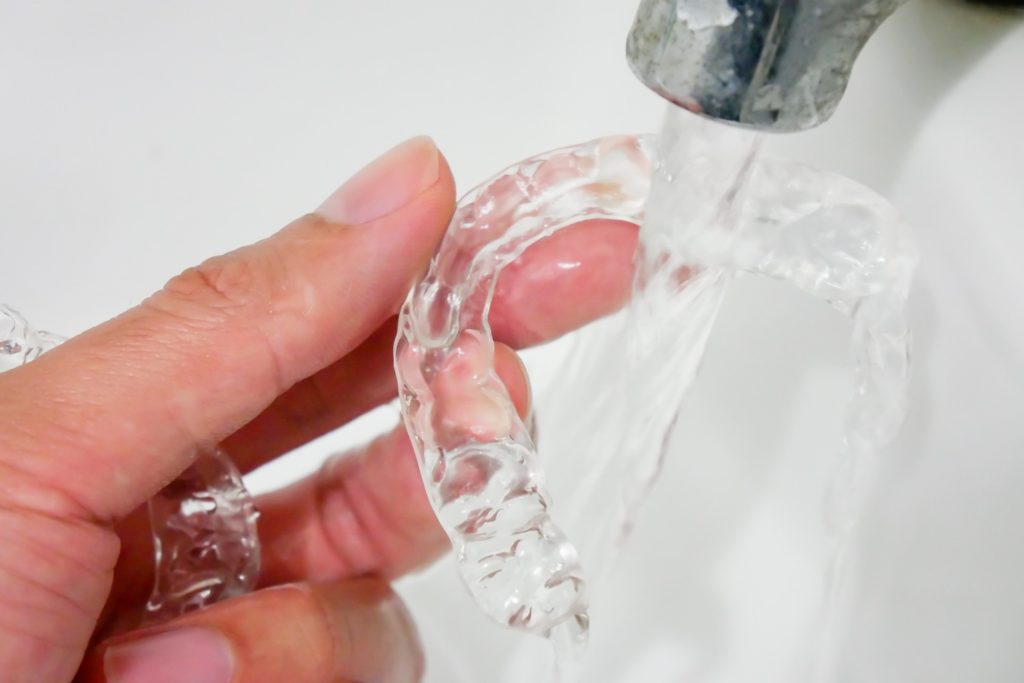 Are the discreet, clear trays one of the reasons you opted for Invisalign? You're not alone. In fact, it's one of the biggest perks of this teeth-straightening solution! Of course, it's important to know that your aligners can discolor. Since this can cause your teeth to look yellow and stained too, it's important to do what you can to take care of them properly. To learn how to keep your Invisalign trays clean, keep reading.
1. Don't Eat or Drink Anything (Other Than Water) With Your Trays In
One of the quickest ways to stain your aligners is to keep them in while drinking beverages like wine, soda, and coffee. Even with a straw, these liquids can spread to your trays, causing them to quickly discolor. So, if you want to keep them clean and clear, always remove them before eating or drinking anything other than water!
2. Rinse Your Trays Frequently
One of the best ways to keep your aligners free of debris is by consistently rinsing them with clean, running water. To avoid cutting into your 22-hour wear time, simply give them a good rinse each time you take them out of your mouth for meals and again before putting them back in. Bonus tip: store your aligners in their designated storage case to prevent them from becoming a breeding ground for bacteria!
3. Brush Your Aligners After Each Meal
Throughout your orthodontic treatment, it's a good idea to adopt the habit of brushing your aligners after breakfast, lunch, dinner, and any snacks you have. Using a soft-bristled toothbrush and some clean water will do the trick! Remember, harsh cleaners like bleach, mouthwash, and even toothpaste can damage them, so don't use them to give your aligners a "deeper" clean.
4. Implement a Solid Oral Hygiene Routine
Naturally, how you care for your teeth will impact the condition of your aligners. If you neglect to brush and floss, then the plaque, food particles, and bacteria in your mouth will naturally transfer to your trays. If, on the other hand, you brush and floss consistently, then your oral health and your aligners benefit!
5. Use Your Invisalign Cleaning Crystals
If your trays are looking a bit yellow, then don't hesitate to use your cleaning crystals. All you need to do is soak a packet of them in some lukewarm water. Then, carefully place your aligners in the mixture, and shake it to dissolve the crystals. You can leave your trays to sit for about 15 minutes, ideally when you're eating or completing your oral hygiene regimen. That way, you don't cut into your wear time!
With these tips, you'll be able to keep your aligners clear and your treatment discreet!
About the Practice
Our top-rated orthodontic office is passionate about one thing: creating healthy, beautiful smiles for patients in and around the Milford area! From our highly trained orthodontists to our exceptional support team, Simply Orthodontics is home to professionals who genuinely love helping our patients have the phenomenal journey to straight teeth they deserve. If you have a question about how to care for your Invisalign trays or you would like to schedule an appointment to see if you're a candidate, don't hesitate to schedule an appointment via our website or by phone at (508) 473-2002.